Sophie Ward was recently seen on the BBC show A very British scandal opposite Claire Foy and Paul Bettany, BBC/HBO Max's troubled blood – an adaptation of the very popular novel of the same name by JK Rowling, and This Scepter Island, playing Rachel Johnson, opposite Kenneth Branagh's Boris Johnson. For the past four years, Sophie has hosted the European Diversity Awards and works closely with Stonewall.
East The mirror cracked your first experience with Agatha Christie?
No, I did a TV version of A Caribbean Mystery with Joan Hickson as Miss Marple and also Return for Murderwhich was an Agatha Christie play.
In The Crack'd Mirror you play Hollywood movie star Marina Gregg – is she based on someone in the movie world?
There was a star called Gene Tierney who was the inspiration for this character and Elizabeth Taylor played the character in a movie when Angela Lansbury was Miss Marple. Marina enters a new chapter of her life, a little more peaceful. She makes movies she loves with her husband and finds some respite by buying this big house in an English country village. It's a new start for her.
She's an actress, you're an actor, do you identify with her in any way?
There are a lot of things that I understand and I worked in a lot of productions from that period. So it's a world that I know a little about but I hope it's not too close to my own life.
Did you experience Hollywood when you were commuting between England and America.
I've done a lot of TV on various shows, but no movies in the US. I met my wife (Rena Brennan) in LA, so we love spending time there. I would like to go further there but my mother-in-law lives in Florida, my mother is in London and I have grandchildren in England. With work and family, it hasn't been easy to get there in recent years. A little pandemic business.
Do you have and The mirror cracked co-star Joe McFadden compared working experiences on ITV Heartbeat series?
Joe was on the show after my time on Heartbeat but we have this in common which is really nice to be able to talk about. I was on the show for two years, a good chunk of the time to do work when you're an actor. We made up for our time in Heartbeat.
"All Interesting Three-Dimensional People"
How was the lockdown for you?
When we had our first lockdown, I was quite happy to do a lot of gardening for a while. But I think we all thought about a reassessment of life and what we were doing. I had time to ask myself: 'Will I continue to play when this situation is over?' It turns out that I want to continue and I missed it during the confinement. But it was really great to have this time to reflect. You are on a wheel, on which you step and continue to turn in circles. It was good to think "I choose to do this and not just continue".
You've been acting longer than most other actors your age.
I had my first role at the age of 10. So I played longer than actors who didn't start that young. I feel very lucky to still be an actor.
How does Marina fit into the kind of roles you play these days?
I had the opportunity to do a lot of different parts. Marina is truly a movie star with all the charm and challenges that that can bring. I'm happy to play it.
What are the highlights of Rachel Wagstaff's new adaptation of The mirror cracked?
This is one of Christie's last books and things are changing in society and in St Mary Mead. Rachel's version shows that they are quite aware of this in the village. The characters aren't stock characters, they're all interesting three-dimensional characters, and Rachel managed to include all of their stories. As an audience, we need to care about them. You want to understand people and not just see another character murdered. Each character is valuable to the story.
Did you go back to the book or movie and TV versions?
Obviously, what we do is our version. Rachel has done an amazing job, so that's what we're working on and that's where my fantasy world is – in Rachel's world. But I'm really interested to see other versions and learn more about this world. Next, you need to focus on Rachel's version.
You have written two novels, the first of which, Love and other thought experiments, was shortlisted for the Booker Prize. Is there a third novel on the horizon?
My second book (school) came out in May and I'm hard at work on the third one. It takes me about five years to write a book.
What prompted you to "go back to school"?
I first did a part-time undergraduate degree, then did a masters and just finished my doctorate at Goldsmiths. There is a lot of expectation in our work and I left school after my baccalaureate, I did not go to university, I just continued to work. I really wanted to go back to school. I knew my children would soon reach that age and I wanted to be able to talk to them about going to college, what it meant and what it was all about. I studied, it took me about 15 years and that's where the idea for my first novel came from, which was a mixture of the things I studied.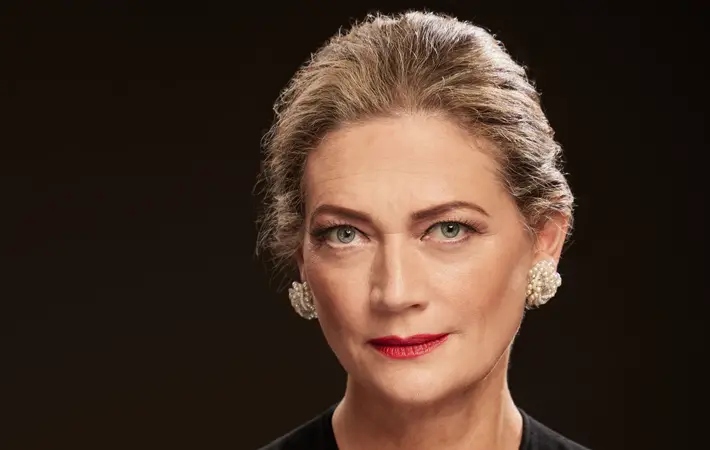 "I never take it for granted"
You are also an advocate for gay and lesbian rights.
I try to be supportive and feel open about my life. I wrote about equal marriage for the Guardian. I was very attached to that, that everyone could have this option to get married. I am involved to that extent but there are people whose whole careers are seriously applied to asserting our rights. I am a very small part of that. There have been a lot of changes, changes in the law and in people's attitudes, which has been amazing to see and experience. But I never take it for granted because, as we see in other countries, things either don't progress in the same way or they go backwards. You cannot be complacent.
Does being an actor help you get your point across?
Obviously, sometimes it can give you a platform and sometimes it's an edge – and sometimes it's not.
What's next after The mirror cracked round?
I have a research trip for my next book.
An exotic place perhaps?
I can't really say because I'm still developing the ideas and immersing myself in a new world. Let's just say "travelling"!
The Mirror Crack'd: York Theater Royal, October 4-8
Ticket Office 01904 623568 | yorktheatreroyal.co.uk